Source:
Rediff Article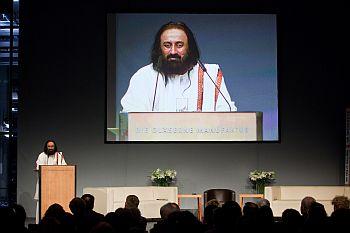 Sri Sri Ravi Shankar addresses the World Culture Forum in Dresden on Saturday

Spiritual leader and Art of Living Founder, Sri Sri Ravi Shankar, was Saturday conferred with the 2009 Culture in Balance Award in Dresden, Germany, in recognition of his outstanding contribution to all the facets of culture, and for his commitment to global cultural balance.
In granting the a
ward, the selection committee attached special importance to Sri Sri's efforts in promoting intercultural dialogue, peace and reconciliation in conflict zones, and ethics in business.
The award, instituted by
the Forum Tiberius, was presented to Sri Sri by Dresden Mayor Helma Orosz, amidst a standing ovation. The award ceremony took place in a special session of the World Culture Forum, at Volkswagen's landmark transparent factory in Dresden.
Rich tributes were paid to Sri Sri by a number of prominent individuals, including Nirj Deva, British Member of European Parliament, Prof. Gesine Schwan, candidate for the 2009 German presidential elections and Dean of Humboldt-Viadrina School of Governance, Berlin, and Prof. Bernd Guggenberger, Dean of Lessing University, Berlin.
Upon receiving the award, Sri Sri said, "I share this award with all those people who stand for a violence-free and stress-free society. This award is not for a person or personality, but for a principle that stands for the ideal of a 'one world family and cultural plurality."
Earlier in the day, Sri Sri spoke of the need to globalize compassion, wisdom and humanism in his keynote address at the World Culture Forum, besides answering a wide range of questions and conducting a meditation.