T

he Lahore attack on the Sri Lankan cricket team was yet another reminder of the growing threat of terrorism in today's world. You could call it 'Munich Olympics attack re-visited', though in Lahore, fortunately, the Sri Lankan players escaped with just minor injuries.
Even weeks later the cricketers were still reeling from the aftermath of the attack. That's when Sri Lankan president Mahinda Rajapaksa decided summon the expertise of Art of Living teacher Swami Sadyojathah.
Sadyojathah, who is at the Art of Living International Ashram in Bangalore under the tutelage of Sri Sri Ravi Shankar, conducted a four-day trauma relief programme for the cricketers.
In a detailed conversation with Chief Sports Correspondent Harish Kotian, Swami Sadyojathah talks about the programme he undertook with the players and the secret to healthy living.
Can you describe the course you put the Sri Lankan cricket team through?
The Art of Living foundation got an invitation from the Institute of Sports Medicine Sri Lanka on behalf of his Excellency the President of Sri Lanka [Mahinda Rajapaksa] to conduct the trauma relief programme for the Sri Lankan cricketers, who went to Lahore. Based on that I went there and had an eight-hour workshop spread over four days; the entire Sri Lankan team, except the two players who were in hospital, underwent the programme. They all enjoyed it; they felt it was a good break for them to move ahead.
When you met the players, did you feel that they will still in a state of shock? Were they still suffering from that trauma?
In fact, many people and the media were asking me about the trauma that they were going through. But, interestingly, in our style of Art of Living we conduct the same programme. We don't sit and just make them talk about the trauma. That is because they have spoken a lot about the trauma in the media and that was happening for nearly two weeks.
So, the four days that we spent together, I didn't ask them anything about Lahore and they didn't tell me also. It was like past is past and finished. It was about how to bring your mind to the present and move ahead. They had the belief as well and they wanted to do something as a team.
They felt this course was a good break for them. For the first time after the Lahore attack the whole team was in the same room, sitting for two hours everyday and learning the breathing techniques.
Did anyone approach you personally during the four-day course asking for help to overcome the shock?
No. We didn't have that session. They all, as a team, underwent the process. Some people did come to me, but all of them wanted to learn more about the yoga and breathing techniques.
Would you say they have got over the episode and are ready for life and returning to playing cricket?
Yes, definitely! They had already started going to the ground and practicing cricket. They believe they don't want to get stuck in the past and want to move ahead in life.
Did you meet the two cricketers, Thilan Samaraweera and Tharanga Paranavitana, who were hospitalised after sustaining bullet injuries?
Yes, I did meet them. In fact, before the course started, the Institute of Sports Medicine wanted me to meet them, so I visited them in the hospital. Since they were not able to do the course they said they will do it as soon as they can.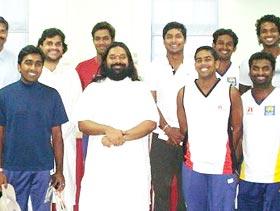 Many of the cricketers have come out in the open and praised the Sudarshan Kriya breathing technique. Can you give us a brief on it?
The Sudarshan Kriya is a very beautiful breathing technique that his Holiness Sri Sri Ravi Shankar has given to this world. It is a very simple and, at the same time, very powerful breathing technique. In fact, by this breathing technique, what happens is that the toxins get released from each and every cell of the body in a short span of time. Once you learn the breathing technique in the Art of Living programme you will know how to practice it everyday just for 10-15 minutes.
So you just got to do it for say around 10 minutes of breathing in 24 hours any time of the day wherever you are as simple as that. It has a very deep profound effect on the body and mind and gives deep relaxation. So once body and mind gets totally relaxed you become more dynamic and you will be able to do much more in a short time in a more effective way.
This Sudarshan Kriya is so powerful that once they start doing it as part of their everyday follow up sessions, the past will not affect them at all.
So you mean to say breathing techniques can you help over come mental trauma?
Yes, most definitely. In our day-to-day life we are experiencing that our breath pattern and emotions are connected. For example, if you are very happy, inhalation is prominent; if you notice it is deep inhalation, like you are enjoying the fragrance of a flower. When you are sad, exhalation is prominent, like sometimes you say a deep sigh. And when you are angry you can notice fast breathing.
So it is very clear that breath pattern and our emotions are connected. But, as of now, it is one-way traffic or a one-way street, like when you have different emotions you have different breath patterns.
But you have to make it a two-way street where using different breath patterns you can handle the mind and emotions.
Will you go back again and help the Sri Lankan cricket team if needed?
In fact it came from them only that they would like to have Sudarshan Kriya as part of their recovery programme after every match. They have a recovery day after a game where they do other processes; so they want Sudarshan Kriya as a part of that and they are also keen to do follow-up sessions, whichever part of the world they are. The Art of Living is present throughout the world so it easy for them also.
Do you also follow cricket or some other sports?
Yes, if I get time I do watch.
Don't you think the Indian cricket team could also benefit using this breathing technique?
Yes; in fact everyone should do it. The quality of your action depends on the state of your mind. If your mind is calm, centred, balanced, happy or joyful your action will be like that; but if your mind is frustrated, irritated or stressed then your action will be according to that. So the whole theme is to make the mind calm or focused, because that what everyone needs, especially the players.
I am sure the Indian cricket team will also benefit from this programme and they are most welcome if they want to do it.
The Art of Living course is meant for mental conditioning, but can it also bring relief from physical pain?
You should see the full definition of health. His Holiness Sri Sri Ravi Shankar has given this definition of health in which he says you have to see health in seven dimensions that is body, breath, mind, intellect, memory, ego and self.
These are the seven layers of existence. We all know health as disease-free body, but it is not just that. It is a combination of disease-free body, quiver-free breath, confusion-free mind, inhibition-free intellect, trauma-free memory, ego that includes all, and sorrow-free soul.
So only when all these seven layers of existence are taken into account only then you can say that you are healthy. So these breathing techniques and the other programmes that we do cater to each layer of existence; it is holistic.
You have also helped tragedy-struck people in other parts of Sri Lanka, mainly during the tsunami in 2005. Can you give details on that?
Wherever our help is required, our volunteers go there. We have done work is Kosovo also after the war, then in Lebanon and Iraq. In fact, in Iraq we have local Iraqis who conduct Sudarshan Kriya programmes and we also have Iraqi Art of Living teachers.
His Holiness Sri Sri Ravi Shankar has also visited Iraq twice and we trained the youth there; it is a ongoing process.
And during the tsunami, immediately after the tragedy struck, I went to Sri Lanka. The first week after the tsunami I visited Jafna. Already it was affected by war for the past 20-25 years and on top of that the tsunami happened. It was in a very bad state. That is when I took the volunteers and teachers from India and other countries to start the work there.